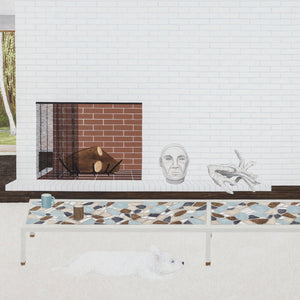 Bitterroot Records & Goods
Mary Lattimore and Jeff Zeigler - Slant of Light
Regular price
$22.00
$0.00
Brand new.  Sealed album.
In most cases intimate musical connections take years to foster, with much time spent learning the others' unique melodic and harmonic languages before true symbiosis can occur. For harpist Mary Lattimore and multi-instrumentalist Jeff Zeigler that type of deep understanding and effortless communication was almost instantaneous. On their first record as a duo, Slant of Light, Lattimore and Zeigler emerge completely synergetic, offering up stunning improvisations that are as advanced melodically as they are texturally. The four pieces on Slant of Light are seductive and picturesque, with Lattimore's elaborate melodies blossoming out of Zeigler's tonal beds of synthesizer and guitar. Equally inviting and challenging, Slant of Light is an impressionistic work that draws on musical histories ancient and contemporary, existing outside current trends in music as a whole. There is nothing that sounds remotely like it.
Slant of Light was recorded by Jeff Zeigler in Philadelphia during a city-stopping snowstorm during the winter of early 2014. Zeigler is one of the most in-demand recording engineers in Philadelphia, and has recorded albums by Kurt Vile, The War on Drugs, Nothing, Purling Hiss, and many others. The cover painting is by Philadelphia based artist Becky Suss.
---
More from this collection