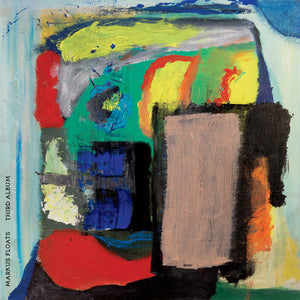 Bitterroot Records & Goods
Markus Floats - Third Album
Regular price
$23.00
$0.00
Brand new. Sealed album.
180g vinyl. 
Digital download and 12x24 art print included.
Third Album is the Constellation debut from Montréal-based multi-disciplinary artist and musician/composer Markus Lake, an active force in the city's DIY music community who's been releasing synthetic audio works under the Markus Floats moniker over the past decade – alongside playing bass in wide range of punk, post-punk, experimental and Afrofuturist outfits (including Elle Barbara's Black Space and Egyptian Cotton Arkestra) and co-founding the local indie music space Drones Club.

With a background in Jazz Performance and Electroacoustic Studies, Lake's solo work is also guided by a painterly sensibility, and informed by a variety of conceptual interests: non-linear narrative composition; sonic simulacra and naturalizing the digital; poptimism vs avant-gardism; the attentive/ceremonial possibilities of 21st century 'music for speakers' (and headphones) in a culture of bombast, nostalgia, and immediate gratification. The music of Markus Floats might best be described as idiosyncratic aural Abstract Expressionism, where melodic gestures, sequenced pulses, atonal clusters and granulated textures are arranged like shapes and strokes of timbral hue and depth.

Using primarily in-the-box midi instruments, along with a handful of samples and field recordings, Third Album is through-composed and atypically but unfailingly expressive – like ruminative action painting in sound. Synthetic notes and chords extrapolate in transitory semi-improvised harmonic and melodic themes, often referencing organ sounds of alternately liturgical and souljazz resonance. The album combines a sort of incantatory, exploratory, desecrated dark lounge with more formal touchstones of electronic composition, where arpeggiators surface and recede amidst shifting drones, distortions and dissonances. The result is a highly original, succinct and lucid set of synthetic-electronic tracks that defies genre: brimming with ideas but not overworked; methodical and discreet but not unassuming or underplayed; deeply integrated in its own ineffable, evocative chronicle of colour, shape and space.

Third Album is a wonderfully distinctive work of leftfield electronic composition and the most distilled music Markus Floats has recorded to date. (In concert, each Floats live performance is specific and unique: he combines his soundscapes with carefully selected spoken word recordings from the black literary canon.) Constellation is delighted to welcome Markus to the roster and to be releasing Third Album with artwork that features his own paintings, including in a deluxe 180gram vinyl edition with an exquisite 12"x24" pull-out art print reproduction. 
Released May 2020.
---
More from this collection