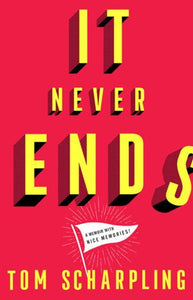 Bitterroot Records & Goods
It Never Ends - Tom Scharpling
Regular price
$27.00
$0.00
Tom Scharpling is good at being funny, which is a miracle, considering what he's survived. Like hitting a deer and narrowly escaping with his life on the night of the 2016 election. But that's nothing compared to the struggles he had earlier in his life.
It Never Ends is his memoir of a life writing comedy amidst a lifelong struggle with mental illness, a story he has never told before. It's the heartbreaking account of his intense coming-of-age, and the lengths he's undertaken to pull away from the brink of self-destruction. Scharpling brought himself back to life first with punk zines and NBA coverage, then through the world of comedy, writing and executive producing Monk, and creating one of the most beloved, longest running comedy radio broadcasts/podcasts, The Best Show. Of course, there are also the tangents into auditioning for the New Monkees, why Billy Joel sucks, the siren call of the Sex and the City slot machines, and how he made a fool of himself in an elevator with Patti Smith.
Tom is the quintessential underdog, and he wears that status on his sleeve as a badge of honor. With this memoir, he lifts the curtain to let the light in on the turmoil that still follows him, even as he racks up accolades and achievements. But most important, he reminds us that while many of us carry trauma and shame, we are not alone. It Never Ends is about rising above whatever circumstance you find yourself in and getting the most out of your life, while steamrolling the chumps along the way.
Release date: July 6, 2021.
---
More from this collection