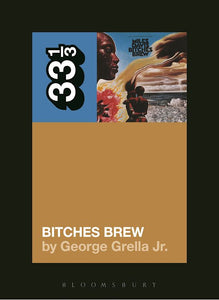 Bitterroot Records & Goods
33 1/3: Miles Davis' Bitches Brew - George Grella Jr.
Regular price
$14.95
$0.00
Brand new paperback book.
It was 1969, and Miles Davis, prince of cool, was on the edge of being left behind by a dynamic generation of young musicians, an important handful of whom had been in his band. Rock music was flying off in every direction, just as America itself seemed about to split at its seams. Following the circumscribed grooves and ambiance of In A Silent Way; coming off a tour with a burning new quintet-called 'The Lost Band'-with Wayne Shorter, Chick Corea, Dave Holland and Jack DeJohnette; he went into the studio with musicians like frighteningly talented guitarist John McLaughlin, and soulful Austrian keyboardist Joe Zawinul. Working with his essential producer, Teo Macero, Miles set a cauldron of ideas loose while the tapes rolled. At the end, there was the newly minted Prince of Darkness, a completely new way forward for jazz and rock, and the endless brilliance and depth of Bitches Brew.

Bitches Brew is still one of the most astonishing albums ever made in either jazz or rock. Seeming to fuse the two, it actually does something entirely more revolutionary and open-ended: blending the most avant-garde aspects of Western music with deep grooves, the album rejects both jazz and rock for an entirely different idea of how music can be made.
---
More from this collection