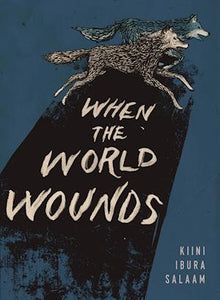 Bitterroot Records & Goods
When The World Wounds - Kiini Ibura Salaam
Regular price
$15.95
$0.00
INTRODUCING THIRD MAN BOOKS FIRST BOOK OF FICTION! WHEN THE WORLD WOUNDS, A NEW COLLECTION OF SHORT STORIES BY AWARD WINNING AUTHOR KIINI IBURA SALAAM.
"Transformative, wise and vivid with the quality of fantasy and fable." - Sheree Renée Thomas, editor Dark Matter
Excited is not the right word, maybe it's ecstatic, or maybe it's an otherworldly word that we have yet to experience, but might discover while exploring all the worlds and beings in Kiini Ibura Salaam's collection of speculative fiction short stories, When the World Wounds. In this eagerly-awaited collection, Kiini Ibura Salaam continues her exploration of the dark, the sensual, and the mysterious with fiction that disturbs, delights, and dazzles. The five stories and one novella collected in When the World Wounds examine the tumultuous nature of the human condition through such wild imaginings as sensual encounters with deer, escapism in a dystopian prison, and volcano women. In "The Taming," a lupine creature is trapped by beasts whose nefarious nature is beyond their prey's understanding. In "Hemmie's Calenture," a woman escaping enslavement is thrust into a war between gods. "The Pull of the Wing" is the prequel to Salaam's wildly popular "Of Wings, Nectar, and Ancestors" trilogy. "Because of the Bone Man" transports readers to the desolate landscape of post-Katrina New Orleans and the struggle of the city's culture bearers to carry on. A welcome follow-up to Salaam's award-winning Ancient, Ancient, When the World Wounds is perceptive and engaging as it examines our world's callous and perilous landscapes while tickling the imagination and startling the senses.
"Kiini Ibura Salaam's short stories (and the characters who inhabit them) are vital, fantastic in all senses of the word, audacious and tender." - Kelly Link, author of Get In Trouble and Stranger Things Happen
"Salaam treats words like the seductive weapons they are. She wields them to weave fierce, gorgeous stories that stroke your sensibilities, challenge your preconceptions, and leave you breathless with their beauty." - Acclaimed author and critic Nalo Hopkinson
"Interesting settings and Salaam's exuberant but controlled prose help to anchor narratives that are continually question, pushing for something beyond the usual." - Jeff VanderMeer, author of the Nebula award winning Annihilation
"Salaam moves easily between genres, themes, and voices. The blend of fantasy, history, and SF is very well done.… Whether tackling far-future SF, generation starships, oracular magical women, or child abuse, the voice of the narration and the characters always seemed spot on. The stories also hit me on an emotional and visceral level." - Locus
The world as Salaam paints it is full of harsh and beautiful things.... The best of her work is imbued with subtle interventions which ultimately provide the reader with sharply felt revelations.... The stories work from mutual touchstones: the illustration of sex as an act of power; a visceral relationship to the human body...; and the examination of the struggle to find oneself, particularly as a woman…" - Richard Larson, Strange Horizons
---
More from this collection