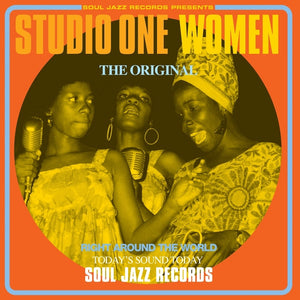 Bitterroot Records & Goods
Various Artists - Soul Jazz Records presents: Studio One Women
Regular price
$40.00
$0.00
Brand new.  Sealed 2xLP.
'Studio One Women' features a wide mix of classics and obscurities from the finest female voices in reggae.
Until now most of these tracks have only been available as extremely hard to find Jamaican 7 inch and 12 inch singles and even if you were lucky enough to find them they'd cost you a small fortune. Marcia Griffiths and Rita Marley (here with her first group The Soulettes) are two of Jamaica's most famous female singers hugely popular today. Both these artists became internationally famous as The I - Threes (with Judy Mowatt), Bob Marley's backing singers alongside The Wailers. Also featured are Hortense Ellis, sister of Alton who cut many smash hits on the island, and Jennifer Lara, a lady who had a long career with Studio One, singing on countless sides. Studio One is the greatest label in the history of reggae and is the foundation of all reggae music. It's where virtually every world renowned Jamaican superstar started out, Bob Marley and The Wailers included. Under the guidance of the legendary Clement Coxsone Dodd the musicians at Studio One recorded hundreds of instrumental rhythms which still provide the backbone for many of the records made in Jamaica today.
---
More from this collection