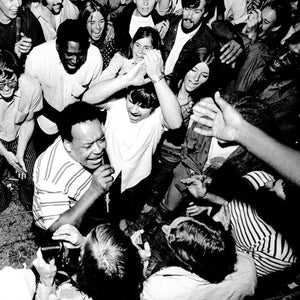 Bitterroot Records & Goods
Various Artists - Ann Arbor Blues Festival 1969 (Vol. 2)
Regular price
$28.00
$0.00
Brand new.  Sealed 2xLP.  
Third Man Records is excited to announce the release of ANN ARBOR BLUES FESTIVAL 1969, a 50th anniversary celebration collecting 24 previously unheard songs by such blues legends as Howlin' Wolf, Muddy Waters, B.B. King, James Cotton, Son House, Magic Sam, T-Bone Walker, Junior Wells, Big Mama Thornton, Clifton Chenier, Son House, Mississippi Fred McDowell, Lightnin' Hopkins, Pinetop Perkins, J. B. Hutto & His Hawks, Roosevelt Sykes, Luther Allison, Otis Rush, Big Joe Williams, Charlie Musselwhite and more. The first ever release of music recorded live at the landmark event, ANN ARBOR BLUES FESTIVAL 1969 will be available in two individual 2x LP volumes, exclusively on 130 gram vinyl.
The historic gathering was presented by a small group of blues-obsessed University of Michigan students determined to give their blues heroes a public spotlight where they might shine before it was too late. Among those enterprising student-promoters was John Fishel, whose teenage brother Jim Fishel, gathered some friends to help record the festival as a personal memento. Taking advantage of their all-access pass and juggling a small Norelco tape recorder from set to set, the friends let the 1⁄4" tape roll. Though field recordings in the literal sense of the term, they capture the brilliance of the musicians, the excitement of the crowd and the loose, convivial nature of the entire festival. Those tapes, long thought to be lost, have now been lovingly restored to capture the electric energy of the landmark concert. Both volumes include never-before-seen photographs, artist biographies, an exclusive reminiscence from Jim Fishel, and extensive liner notes by Parker Fishel, Sophie Abramowitz and David Beal.