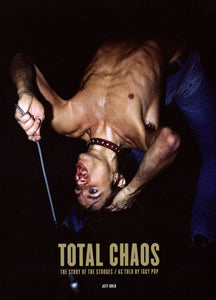 Bitterroot Records & Goods
Total Chaos: The Story of the Stooges / As Told by Iggy Pop (new updated and revised paperback)
Regular price
$40.00
$0.00
TOTAL CHAOS: The Story of the Stooges / As Told by Iggy Pop (UPDATED AND REVISED) features even more new, never before seen photos than the original hardback book, plus an additional chapter from legendary vocalist of Black Flag, Henry Rollins. TOTAL CHAOS was already the definitive oral history in words and images of The Stooges. Now, UPDATED AND REVISED is the new 9.5" x 7" high quality paperback art book featuring all the hundreds of full color photos from the classic hardback plus new bonus material. There is no other book like this that documents one of the USA's most influential groups in the words of Iggy Pop himself!

"Gasp at the awe-inspiring memorabilia and frank talk in Total Chaos…remarkable" —Mojo Magazine
TOTAL CHAOS: The Story of The Stooges / As Told by Iggy Pop is the first time the story of this seminal band has been told entirely in Pop's own words. 
Author Jeff Gold and contributor Johan Kugelberg, noted music historians and collectors, spent two days with Pop at his Miami home, sharing with him their extensive Stooges collection and interviewing the legendary singer. Pop's candid, bare-all responses left them with the almost unbelievable tale of the band he founded-the alternately tragic and triumphant story of a group who rose from youth, fell prey to drugs, alcohol, and music biz realities, collapsed and nearly 30 years later reformed, recording and touring to great acclaim. In 2010 The Stooges, credited with having invented punk rock, were inducted into the Rock & Roll Hall of Fame. Their continuing influence can be felt today in the shape and sound of rock-n-roll music.
Jeff Gold, Johan Kugelberg and editor/contributor Jon Savage are among the most respected music authors and historians working today. Their efforts include numerous acclaimed and best-selling books and a Grammy Award. TOTAL CHAOS stands as a work for all fans of the band and rock music to draw inspiration. Including an absolute treasure-trove of rare and unseen photographs, TOTAL CHAOS is a book that shows AND tells the story of The Stooges. A metallic k.o. of only the best kind.
"Chaos Reigns: Iggy Pop Spills His Guts in This Definitive Stooges Book"—Noisey
"Iggy Pop's leather jacket and biker boot clad, fuck-the-world nonchalance belies the obsessive, meticulous genius that bolstered the punk rocker to international acclaim as one of the first- and best- to spit squarely in the eye of the mainstream and live to tell the tale." —Elmore Magazine
"TOTAL CHAOS is phenomenal—a must-have for all fans of the group."—Dangerous Minds
---
More from this collection