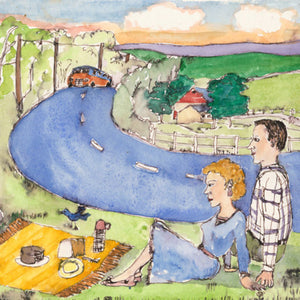 Bitterroot Records & Goods
Magnetic Fields, The - Wayward Bus / Distant Plastic Trees
Regular price
$30.00
$0.00
Brand new.  Sealed 2xLP.
Includes digital download.

The Magnetic Fields' first two albums, The Wayward Bus and Distant Plastic Trees, make their debut appearance on vinyl, packaged together as a two-LP set.

Distant Plastic Trees, the Magnetic Fields' first album, was originally released in England and Japan in 1991. Merritt's accordion player, the novelist Daniel Handler, later noted that "this tinny and intimate recording, in quiet defiance of the reigning roar of pop music, recalls both the early, scratchy field recordings of folk music and the first experiments in electronic music—precisely the sort of stylistic balance the Magnetic Fields liked to achieve." The album includes the early-'90s college radio single "100,000 Fireflies" which had earlier appeared as a single on Harriet Records and was later covered by Superchunk. 

The album artwork on both Distant Plastic Trees and The Wayward Bus was created by watercolorist Wendy Smith. Her beautiful wrap-around paintings, now printed in a larger format, along with remastered audio make this two-LP set an exciting addition to the Magnetic Fields discography.
---
More from this collection