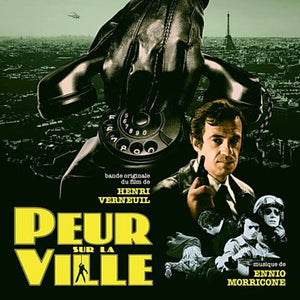 Bitterroot Records & Goods
Ennio Morricone - Peur Sur La Ville
Regular price
$25.00
$0.00
Wewantsounds announces the special reissue of one of Ennio Morricone's most striking soundtracks, composed for Henri Verneuils's 1975 film, Peur Sur La Ville (Fear Over The City). This special edition includes the original score released in 1975 plus a second album's worth of bonuses which have never been released on vinyl, including two tracks making their official debut after 45 years.
Ennio Morricone's association with French director Henri Verneuil comes close to the one the Maestro had with Sergio Leone. This fruitful collaboration spawned many classics including The Sicilian Clan (1969), Le Casse (1971), Le Serpent (1973), and I Comme Icare (1979). Peur Sur La Ville from 1975 is probably the peak of their collaboration and is undoubtedly one of Morricone's best scores. The thriller featuring Jean Paul Belmondo was a huge blockbuster hit in France and Morricone's soundtrack became equally famous. It features all of Morricone's trademarks: a catchy theme with haunting piano chords, Alessandro Alessandroni's whistle, dissonant strings, melodramatic melodies, and catchy sexy groovy tracks. But as the French film failed to become an international hit, its score didn't get the exposure it deserved becoming cult only to the circle of Morricone fans. John Zorn did feature the "Peur Sur La Ville Theme" on his cult 1984 homage to the Maestro, The Big Gundown (making it to second position in the track list) but the soundtrack never had the trajectory of those made for Sergio Leone.
A wealth of bonus tracks was unearthed in the '90s, but this is the first time they make it to vinyl. The Wewantsounds team have completely re-sequenced the whole track list in a more chronological way and added two fascinating completely unissued tracks including a superb alternative version of the theme "Minaccia Telefonata". For this special edition, the label asked Californian musician and soundtrack expert AM to team up with his good Paris friend, Air's JB Dunckel to discuss the Peur Sur La Ville film and music, and their common admiration for the Maestro's music. This edition comes in a gatefold sleeve superbly designed by American illustrator Eric Adrian Lee, making good use of the film photos.


A1. Peur Sur La Ville A2. Considération Sur Un Homicide A3. Avvertire La Polizia* A4. Dolcemente Ambigua* A5. Suspense* A6. Un Sursaut* A7. La Tension Monte* A8. Jukebox Psychédélique* A9. Peur Sur Paris*
B1. Défense De Stationner B2. Minaccia Telefonata N.1* B3. Sur Les Toits De Paris B4. Mannequins B5. Essere Preso Dal Panico* B6. Une Bouffée De Radio B7. Paris Secret B8. La Scorta* B9. Le Tellier E Helene* LP2
C1. Paranoïaquement Vôtre C2. Reconsidération** C3. Minaccia Telefonata N.2* C4. Otages C5. Notturno Primo* C6. Assassinio*
D1. À L'angle D'une Rue De La Périphérie* D2. Minaccia Telefonata N.3** D3. Tractations* D4. Notturno Secondo* D5. Peur Sur La Ville (Final) D6. Dénouement*
* Previously unreleased on vinyl.
**Previously unreleased.