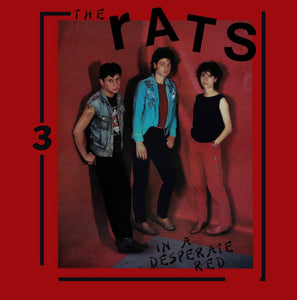 Bitterroot Records & Goods
Rats, The - In A Desperate Red
Regular price
$19.00
$0.00
Brand new.  Sleeved but not sealed.
At last! Fred and Toody Cole (Dead Moon, Pierced Arrows) and drummer Louis Samora's ultimate punk masterpiece—In A Desperate Red. This is the last record by the Portland punk legends before moving on to a very brief country period and then Fred and Toody moving on to Dead Moon. In fact, two songs from the first Dead Moon LP hail from the same session as this LP.
In A Desperate Red combines garage rock, new wave and art punk—just picture a more punk version of Dead Moon if you can. 6 years of work went into remixing and remastering this version with Fred Cole twisting knobs and obsessing over it's every detail and then Greg Shadoan and Tim Stollenwerk finishing the job. One of Fred Cole's greatest records and impossible to find for many years—at last this LP is available as it was meant to be heard. Play it loud!