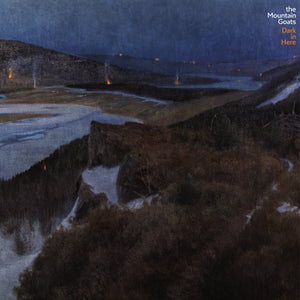 Bitterroot Records & Goods
Mountain Goats - Dark In Here
Regular price
$25.00
$0.00
Brand new.  Sealed album.
Includes digital download.
From Peter Hughes of the Mountain Goats:

One of the words that John used when we were talking about the direction for Dark in Here was "wild," which I liked a lot. Not wild in the sense of abandon—these aren't those kind of songs. But wild in the sense of something undomesticated, untamable. Wild like the immutability of nature, the way it will take back any piece of untended space as its own, whether amidst the AutoZones and Chick-fil-A's of Muscle Shoals [home of FAME Studios, where the album was recorded] or among the ruins of a scientific outpost on the Kola Peninsula. Wild like the whale; like a powerful animal. Or a virus—the beast that awakes, emerges from a forest, and stops the world. You can fight the calamity all you want, but either way, it's going to demand your surrender.