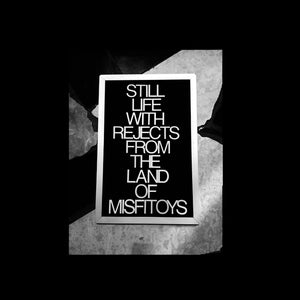 Bitterroot Records & Goods
Kevin Morby - Still Life
Regular price
$22.00
$0.00
Brand new.  Sealed album.

"Still Life" is the second solo album from Kevin Morby. The namesake of the record is an art piece by Maynard Monrow entitled "Still Life with the Rejects from the Land of Misfit Toys."
The album's title has several meanings. On the surface, it refers to Morby's change in lifestyle from moving to Los Angeles from New York in August of 2013.
But he also admits that the title is ironic. The songs from "Still Life" were written during yet another period of tour and travel for Morby, as he spent most all of 2013 on the road with Woods (whom Morby parted ways with amicably last year), The Babies, who are currently on hiatus and as a solo artist.
The album reflects both this time in transit and the quiet confines of his new home in Montecito Heights. Scenes of performers, audience expectations and the paradoxical confines of a roving individual perpetually caught in a crowd percolate the songs, notably in "The Jester, The Tramp, The Acrobat," and "Parade." (Morby calls the latter an elegy of sorts for one of his major influences, Lou Reed). Violent fates, wrestling with destiny and the nature of death creep into songs like "The Ballad of Arlo Jones," "Bloodsucker" and "Amen". Even Morby's more obvious love songs like "All of My Life," "Drowning" and "Our Moon" are highly bittersweet; the characters in these songs seem to never quite find each other, but perhaps they find themselves.
As with "Harlem River", "Still Life" is once again produced by Rob Barbato (Cass McCombs, Darker My Love) who adds his signature guitar and bass playing to the album. The album was engineered and mixed by Drew Fischer, who also worked on "Harlem River" and the Babies second full length album "Our House on the Hill" and recorded between March and June of 2014 at Barbato and Fischers new Burbank Recording Studio, Comp'ny.
Morby is also once again joined by Justin Sullivan (The Babies) on drums and percussion. Sullivan is a fixture in Morby's live band, which completed a full U.S. tour in January of 2014, supporting Cate Le Bon.
Solo artist (and Le Bon guitarist), H. Hawkline handled bass duties for Morby on the tour and contributes bass to three songs on the record that were a live staple. Multi Instrumentalist Will Canzoneri (Cate Le Bon, Cass McCombs, Jessica Pratt), who also performed live with Morby on the Le Bon tour and who was a contributer on "Harlem River", contributes piano and organ to the album. The album also features a prominent horn section on "Parade" and "Amen".
Morby plans to spend much of the rest of 2014 and 2015 on the road. Initial plans include East and West Coast runs in August 2014 and Europe in September 2014.
While Morby called his solo debut "Harlem River" a love letter to New York City, the city hasn't faded as a muse. (readliy evident in the eerie twisting journey of "Dancer").
This makes sense. Morby says he always interpreted the "land of misfit toys" in the album's namesake piece to be that of New York.