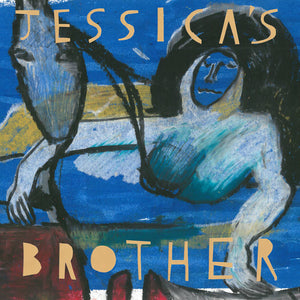 Bitterroot Records & Goods
Jessica's Brother - s/t
Regular price
$24.00
$0.00
Brand new.  Sealed album.  
Includes digital download.
Jessica's Brother is the eponymous debut album from London trio Jessica's Brother, comprised of songwriter Tom Charleston, Jonny Helm (drums, also of The Wave Pictures) and Charlie Higgs (bass, previously of Ramshackle Union Band). Channelling the spirit of the Brothers Grimm to create an otherworldly atmosphere, they weave their motley influences together making a rich and eclectic vision, with nods to Silver Jews, Jason Molina, Nick Cave, Richard Thompson and Neil Young. There are themes of joy, anger and silliness in a carefully crafted world with a colourful cast of characters.
The trio formed in October 2016. Jonny and Charlie worked together in a framing business and had often talked about collaborating in a band together. Fate intervened when Jonny's girlfriend Jessica introduced him to her brother Tom, and they found a songwriter in waiting. The trio clicked immediately and just nine months later they recorded the album with Laurie Sherman at The Booze Cube in Stoke Newington, with input from Darren Hayman. A few other friends joined them in the studio, including Dan Mayfield (Enderby's Room), who added a dose of Bad Seeds/Dirty Three vibes on the violin and Paul Rains (Allo Darlin'/Tigercats) lent a hint of country twang on guitar and
slide guitar.
With Jessica's Brother, we see Tom Charleston's songwriting blossoming in to a tour de force. Influenced more by poets than other musicians, he cites John Ashbery, T.S. Eliot and Philip Larkin as inspirations. He is drawn to how they can be irreverent, unassuming and playful, as he explains; "I suppose I wanted to offer something lyrically engaging and hopefully different." His modestly lofty ambitions have paid off, with ten startling individual vignettes telling their own stories from a variety of narrator's points of view.

He tackles difficult subjects such as gender equality and the destructive nature of masculinity. These can be seen in tracks such as "One Of The Guys", about the toxic nature of being one of the guys in a predatory pack, lamenting the masculine essentialism owned and largely perpetuated by the male sex. The single "Overnight Horror" revolves around the macho-masculine nightmare where, as Charleston explains, "the world has gone head-over-heels shitward and the narrator is reduced to selling his daughter or his wife to stay alive."

Album opener is the Silver Jews-esque "Getting Obscene", which sprang from a sense of going nowhere fast, acknowledged in a repetitious revolving chord which becomes an immersive rock'n'roll meditation. The tone completely changes with the next track "All The Better", which is a hushed, eerie folk song exploring the melancholy and optimism of breaching adolescence and the limbo before adulthood; a simple tale of growing up.
"Humdinger" is perhaps the one song on the album where the narrator is at ease with himself and the world. Though there are moments where this tranquility is nudged by outside tremors, so we know this moment is ephemeral.

Weaving a variety of influences from jangly indie-rock to gothic country and contemplative psych folk, Jessica's Brother create the sound of a band coming together and getting caught up in the rush of starting new and enjoyable. The instruments clamber over each other in a small room, with Helm's distinctive drumming counterbalances the gothic guitar thrums and wailing violin. Already lauded by the likes of The Guardian (for their first ever gig) and the Saatchi Magazine (for their first single), the scene is set for a bright future.

"Jessica's Brother's shambling nerdcore is clearly a passion project intended to please only themselves. Good for them…A jingling rush that would have headed John Peel's Festive 50 in another life." The Guardian
"A band to fall in love with... there is no derivative pastiche or homage here. It all feels right, and, as with the best bands, they make it sound new." Saatchi Magazine

"A stunning combination of gothic-country and 1960's inspired psych-folk, simultaneously downbeat and expansive." For The Rabbits
released July 20, 2018

---
More from this collection