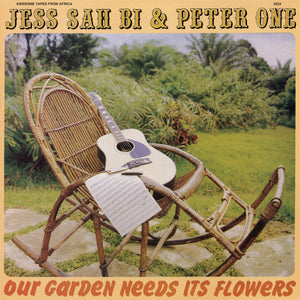 Bitterroot Records & Goods
Jess Sah Bi and Peter One - Our Garden Needs Its Flowers
Regular price
$21.00
$0.00
Brand new.  Sealed album.
In the 1980s, Abidjan's Jess Sah Bi & Peter One became one of the most popular musical acts in not just the Ivory Coast (Côte d'Ivoire), but broader West Africa, eventually performing with a full band to stadium-sized audiences at home and throughout Benin, Burkina Faso and Togo.

Although they'd been popular radio and television performers for several years prior, the catalyst for Jess and Peter achieving this new level of stardom was their debut album, Our Garden Needs Its Flowers, recorded and released in 1985.

In contrast with the heaving funk, disco and reggae sounds of the day, Our Garden Needs Its Flowers was a lush fusion of traditional Ivorian village songs and American and English country and folk-rock music. Jess and Peter sang in French and English, delivering beautifully harmonized meditations on social injustice and inequality, calls for unity across the African continent, an end to apartheid in South Africa and the odd song for the ladies, all set against lush guitar riffs, rustic harmonica and rollicking feel-good rhythms.

---
More from this collection