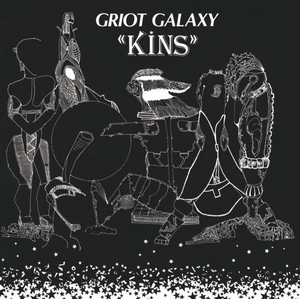 Bitterroot Records & Goods
Griot Galaxy - Kins
Regular price
$20.00
$0.00
Brand new. Sealed album.
Griot Galaxy is a "secret" jewel of Detroit's avant-garde jazz history, until now.
That is to say, they will always be a jewel of Detroit's avant-garde jazz history. Their deeply passionate music a testament to experimentation, freedom, and blackness. But with the long-awaited reissue of their first album, the hard-to-find Kins, the secret is out.
Griot Galaxy doesn't strictly begin with Kins. It begins with visionary bandleader and saxophonist Faruq Z. Bey's musical and political awakening in the late '60s, when the 1967 Detroit Rebellion was tearing Detroit apart and Coltrane's untimely death was devastating the jazz community. Kins, recorded in 1981 and originally released in 1982, is a masterstroke of creative Detroit jazz. The freeness of the playing is anchored by a serious propensity for rhythm, evident in the way its members layered their collective backgrounds in bebop, funk, reggae, and other styles within the expansive possibility of sonic expression. And all but 200 or so copies of the original 2000 pressed were unintentionally trashed.
Griot Galaxy's willingness to push boundaries was as affectionate as it was fearless. Kins is Detroit's post-Coltrane, high-on-Sun-Ra bridge into the '80s. They certainly weren't the first to experiment with polyrhythms, odd meters, and tonal scales beyond the traditional concepts, but it was in part the combination of Shahid and Tabbal's previous experience with Sun Ra, as well as Tabbal's experience with one-time Arkestra trumpeter Phil Cohran, that allowed the group to blossom.
Donning silver face paint and spouting poetry on stage, the group gained notoriety for both impressive musicianship and theatrical proto-Afrofuturist flourishes as they played all over town, including Cobb's Corner, a jazz bar in the Cass Corridor.
We're lucky that lead engineer Ron DeCorte saved the original master tapes, from which these recordings came. Although most of the wider world didn't get a chance to experience the wonder of Griot Galaxy at the time, we will gloriously, happily, gratefully take what we can get now.
---
More from this collection