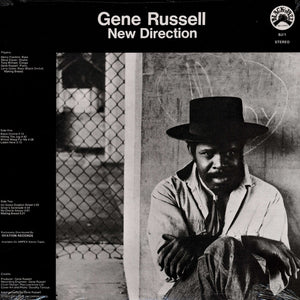 Bitterroot Records & Goods
Gene Russell - New Direction
Regular price
$24.00
$0.00
Brand new. Sealed album. 
"Think Ahmad Jamal. Vince Guaraldi. Junior Mance. Red Garland. Ramsey Lewis. Then think again. It's Gene Russell with his New Direction, an album that originally appeared in 1971, only to be reissued on CD in 2003 as an import. But now New Direction serves as a kind of flagship re-reissue for Black Jazz and its catalog of recordings made by label founder Russell from sessions produced in New York City and Los Angeles during the early to mid 1970s. Essentially a trio recording of mostly covers, New Directions begins with 'Black Orchid,' with that amalgamation of the piano stylists referred to above, a kind of sonic rainbow with percussion. A driving, Latin-flavor confection, 'Black Orchid' is full of chords, based around two in particular, but with a sweet melody that grabs your attention right off. Russell's playing - which features a unique blend of chords and single lines but driven by an insistence that speaks to forward motion - is amply displayed here, his almost simple expressions perfectly enhanced by the spritely rhythmic textures. By way of contrast, and as a feature to New Directions, we visit one of the other predominant musical styles the album has to offer. 'Hitting the Jug' is your simple, basic blues, a medium-tempo swinger that, bereft of percussion, now offers a clear picture of the trio, the mix putting Russell in the middle, with bassist Henry Franklin (Larry Gates on bass for the opener and closer) and drummer Steve Clover on opposite sides. This one's a showcase for more chords and single notes, patience with the elementals, not to mention how the band can swing inside this more measured rhythmic gate. Simple. Straightforward. Honest. That Gene Russell on New Direction." -- John Ephland;
Personnel: Henry Franklin (bass), Steve Clover (drums), Tony Williams (congas), Gene Russell (piano), Larry Gates (bass) on "Black Orchid" and "Making Bread."
---
More from this collection