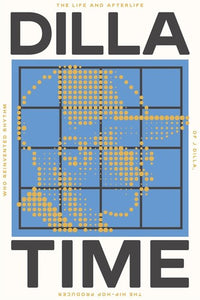 Bitterroot Records & Goods
Dilla Time: The Life and Afterlife of J Dilla, The Hip-Hop Producer Who Reinvented Rhythm - Dan Charnas
Regular price
$28.00
$0.00
Brand new hardcover book.
Equal parts biography, musicology, and cultural history, Dilla Time chronicles the life and legacy of J Dilla, a musical genius who transformed the sound of popular music for the twenty-first century.
It's Dilla Time. Finally. Dilla Time is the story of the invention of a new kind of time, a new kind of sound, by the most influential music producer of the last twenty-five years, someone you may never have heard of: J. Dilla. He's revered by rappers and producers from Kanye West to Kendrick Lamar, and he worked with the likes of Michael Jackson and Janet Jackson—but Dilla himself never rose to mainstream fame, despite revolutionizing the way music sounds before his untimely death at the age of thirty-two.
In Dilla Time, Dan Charnas chronicles the life of J. Dilla, from his gifted childhood in Detroit, to the rare medical condition that caused his tragically premature death. He also records the histories of American rhythms: from the birth of funk and soul in Dilla's own Motown, to techno and disco. Here, music is a story of Black culture in America and of what happens when human and machine times are synthesized into something totally new. Charnas teaches us to "see" sound differently, giving time itself texture, color, pattern.
Dilla's beats, which to the untrained ear sound imprecise and chaotic, were born of the rigorous work ethic of a perfectionist almost spiritually devoted to his music. This is the story of the man, and the machines, that made up a new kind of time. Equal parts musicology, biography, and cultural history, Dilla Time is a book as delightfully detail-oriented and as vibrantly original as J. Dilla's music.
---
More from this collection