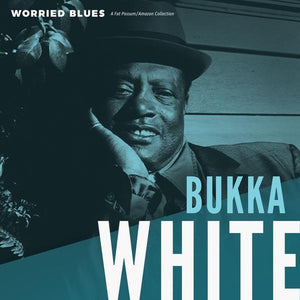 Bitterroot Records & Goods
Bukka White - Worried Blues
Regular price
$20.00
$0.00
Brand new.  Sealed album.
Worried Blues features rare, lost, and out-of-print recordings from 10 towering figures of 20th Century delta blues, including R.L. Burnside, Reverend Gary Davis, Honeyboy Edwards, Mississippi John Hurt, Skip James, Furry Lewis, Little Brother Montgomery, Houston Stackhouse, Bukka White, and Reverend Robert Wilkins. There is one full album devoted to each artist. (This is Bukka White's).
The bulk of Worried Blues was recorded from 1963-1972 by Gene Rosenthal, blues scholar and founder of Adelphi Records, along with contributions from acclaimed musicologist and one of Rolling Stone's 100 Greatest Guitarists of All Time, John Fahey. The 10 albums provide a rich and varied catalog of artists who were scattered across the Mississippi Delta, largely inactive until a new generation sought them out.