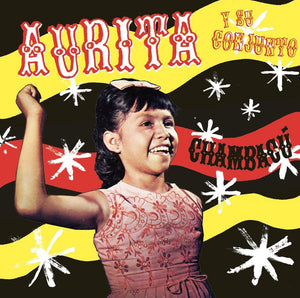 Bitterroot Records & Goods
Aurita Castillo Y Su Conjunto - Chambacú
Regular price
$21.00
$0.00
Brand new. Sleeved (unsealed) album.
HEAVY COLOMBIAN CUMBIA FRONTED BY SIX YEAR OLD AURITA CASTILLO

We are proud to release this LP compilation of the great Aurita Castillo, the young queen of Cumbia from the legendary Chambacu neighborhood.

Little is known about Aurita other than her cutting some killer records for Discos Fuentes in Medellin in the 1960s. Her recordings with an uncredited backing back are some of the heaviest and most perfect cumbias of the era - ripping electric and acoustic guitars, snapping thundering drums, dark clarinet melodies and Aurita's amazing voice commanding the show.

This is the first reissue of these songs outside of Latin America, and a long overdue celebration of the very talented Aurita Castillo and her band. Aurita's repertoire included versions of famous Colombian songs by Pedro Nel Isaza, Pedro Jairo Garces (Los Golden Boys) and other composers / session musicians, in addition to popular twist and novelty songs, but this compilation is primarily her deep cumbias and porros, mostly in a minor key, with a few surprises. It is hard to believe such a young singer could be this powerful, emotive and confident, but here we are. Musically, the band is top tier and rides a perfect line of tight and loose, fleshing out each arrangement with subtle harmonies, heavy grooves, flourishes and exclamations, without ever delving into boring saxophone solos or pointless showboating.

Highly recommended for fans of golden era Colombian cumbia --- A Orillas Del Magdalena and Remolino de Oro (Domino Sound), The Original Sound of Cumbia (Soundway), as well as the Skatalites and other instrumentally-beautiful Caribbean and Latin American ensembles, Balkan brass music, etc.

---
More from this collection