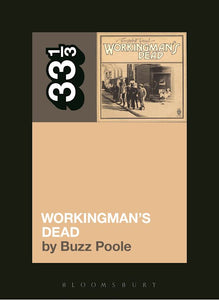 Bitterroot Records & Goods
33 1/3: Grateful Dead's Workingman's Dead - Buzz Poole
Regular price
$14.95
$0.00
Brand new paperback book.
Released in 1970, Workingman's Dead was the breakthrough album for the Grateful Dead, a cold-water-shock departure from the Acid Test madness of the late '60s. It was the band's most commercially and critically successful release to date. More importantly, these songs established the blueprint for how the Dead would maintain and build upon a community held together by the core motivation of rejecting the status quo – the "straight life" – in order to live and work on their own terms.

As a unified whole, the album's eight songs serve as points of entry into a fully-rendered portrait of the Grateful Dead within the context of late twentieth-century American history. These songs speak to the attendant cultural and political anxieties that resulted from the idealism of the '60s giving way to the uncomfortable realities of the '70s, and the band's evolving perspective on these changes. Based on research, interviews, and personal experience, this book probes the paradox at the heart of the band's appeal: the Grateful Dead were about much more than music, though they were really just about the music.