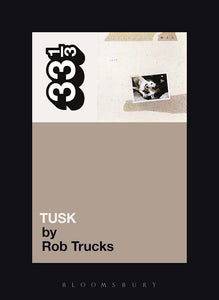 Bitterroot Records & Goods
33 1/3: Fleetwood Mac's Tusk - Rob Trucks
Regular price
$14.95
$0.00
Brand new paperback book.
After Rumours became the best-selling single album of all-time, Fleetwood Mac asked Warner Brothers Records to buy them a studio (the label refused, costing both Warner Brothers and the band significant cash in the long run) and then handed the reins to their guitarist and resident perfectionist Lindsey Buckingham. "You know," Buckingham said, "we had this ridiculous success with Rumours. We were poised to do another album, and I guess because the axiom 'If it works, run it into the ground' was prevalent then, we were probably poised to do Rumours II. I don't know how you do that, but somehow my light bulb that went off was, 'Let's just not do that. Let's very pointedly not do that.' "

Here, Rob Trucks talks to Lindsey Buckingham, as well as members of Animal Collective, Camper Van Beethoven, the New Pornographers, Wolf Parade, and the USC Trojan marching band in order to chart both the story and the impact of an album born of personal obsession and a stubborn unwillingness to compromise.