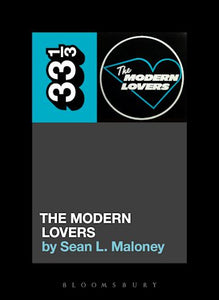 Bitterroot Records & Goods
33 1/3: The Modern Lovers' The Modern Lovers - Sean L. Maloney
Regular price
$14.95
$0.00
Brand new paperback book.
From the "War on Hippies" to the Great Rock 'n' Roll Swindle, the story of Modern Lovers is a high octane tale of Brutalist architecture, rock 'n' roll ambition and the struggle for identity in a changing world. One of punk rock's foundational documents, the archetype for indie obsession and all but disowned by its author, The Modern Lovers was an album doomed by its own coolness from day one. Powered by the two-chord wonder "Roadrunner" and its proclamation that "I'm in love with rock 'n' roll,"The Modern Lovers is the essential document of American alienation, an escape route from the cultural wasteland of postwar suburbia. The Modern Lovers is the bridge connecting the Velvet Underground and the Sex Pistols; they were peers of the New York Dolls and friends with Gram Parsons and they would splinter into Talking Heads, The Cars, and The Real Kids.

But The Modern Lovers was never meant to be an album. A collection of demos, recorded in fits and starts as Jonathan Richman and his band negotiate modernity and the music industry. It is a collection of songs about a city and a society in flux, grappling with ancient corruptions and bright-eyed idealism. Richman observes a city all but abandoned by adults, ravaged by white flight and urban renewal, veering towards anarchy as old world social moors collide with new attitudes. It is a city stands in stark contrast to the the ranchstyle bedroom community where he was raised. All of these conflicts are churned through Richman's intellectual acuity and emotional unrest to create one of the 20th century's most enduring documents of post-adolescent malaise.

---
More from this collection