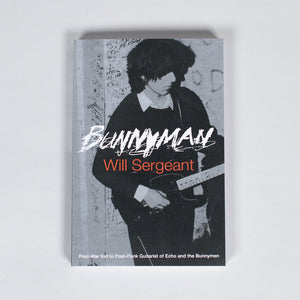 Bitterroot Records & Goods
Bunnyman - Will Sergeant
Regular price
$19.95
$0.00
THE FIRST AUTHORIZED WRITTEN HISTORY OF ECHO AND THE BUNNYMEN BY AND ABOUT A MEMBER OF THE BAND.
"Will Sergeant is a true original." — Robert Smith, The Cure
This is the true story of one small boy, me, Will Sergeant, navigating the 60's and 70's, a woolly-back (hick) spawned one drunken night on the outskirts of a Nazi pocked and battered Liverpool, growing up with the spectre of WW2 still creeping about most adults padlocked minds. I trudge on into a piss wet 1970s, just as the pustules of teenage years approach popping point. It is a heady time of power cuts, strikes, flying pickets, bread shortages, skinhead gangs, IRA bomb scares, nuclear war fears, rock gigs, glam clothes, drowned motorbikes, explosives, dead-end jobs and the usual school lessons of chicken strangulation. With the help of music, I manage to navigate myself through the sinking sand of prog rock and into the safety of punk. My boots still muddy with a bad attitude, I head into the winter of discontent to become a post-punk trailblazer worshipped all over the world as a god. Well? An inventive and influential guitarist of some note at the very least.
"Will Sergeant is a sonic master of the universe." – Courtney Love
---
More from this collection